We will do our best to assist you in achieving your training objectives. We aim to help you learn efficiently and effectively while enjoying the training facilities available. Our training and support staff are here to assist and motivate you. They are all highly qualified in their professions and experienced. Each one of them has a strong personal interest in helping you meet and exceed the high-quality standards of the courses we have to offer.
The information contained in our Student Handbook is important, and you are required to sign the front of your assessment document to confirm that you have been supplied a copy which you have read and understood. A link to our Student Handbook will be given to you in your booking confirmation email and is available in print form at reception and in our student lounge.
This Handbook contains information on :
How to contact us
Enrolment and withdrawal procedures
Student Fee Protection
Key safety rules
Privacy Act
Drug and Alcohol policy
Student code of Conduct and Disciplinary process
Parking policy
Health and Safety and On-Site Requirements (what you need to bring)
Complaints Process
Assessment, Reassessment and Recognition of Prior Learning
Appeals process
The OPITO Pre-Course Information for students and companies to obtain an understanding of the training and assessment requirements for the OPITO Standards.
We are currently offering the following OPITO courses:
BOSIET (with EBS) Code 5700 Theory and Practical;
BOSIET (with EBS) Digital Delivery Code 5703 Practical Sessions One (1) day.
FOET (with EBS) Code 5858 Theory and Practical One (1) day.
HUET (with EBS) Code 5095 Theory and Practical One (1) day.
Our Terms and Conditions cover the following information:
Bookings
Obligations of Wood Training
Customer Obligations – including meeting all pre-course information (prerequisites, medically check)
Literacy minimum requirements
Course Information
Your legal Rights
Health and Safety
Privacy Act
At Wood Training we instruct in the English language. As such, to succeed in our courses, learners need a basic level of English (around Level 10, or 4th form). For those where English is not their first language, we expect an International English Language Testing System (IELTS) equivalent to Level 5 (band).
For more information on this see our Literacy and Requirements for English pamphlet. If you have learning disabilities, you can request a reader/writer – you need to do this advance (see Student Handbook).
We have self-reviewed our progress against implementing the Education (Pastoral Code of Tertiary and International Learners) Code of Practice 2021.
You can read our self-review here: Self-Review of Code of Practice Wood Training
We have set specific strategic goals relating to course satisfaction and feeling safe and supported.
We measure this by monitoring student feedback to the following questions:
Do students feel safe and supported?
Are students satisfied with their course?
The results (updated October 2023) are: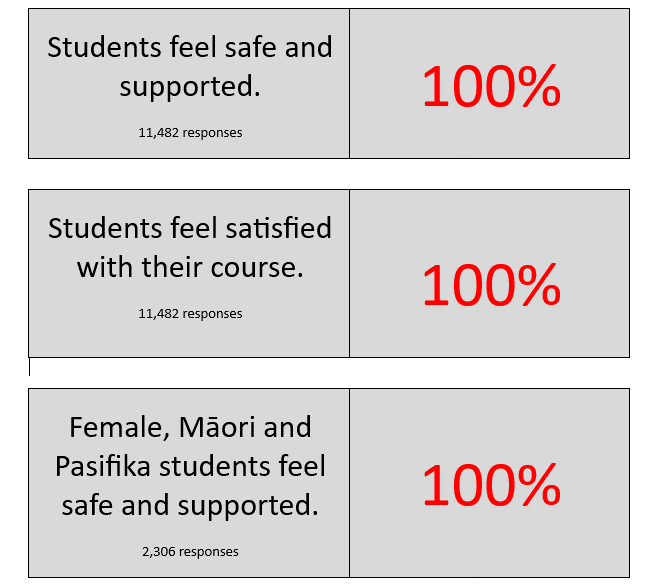 We offer training to keep you safe in areas of high risk. Sometimes simply being made aware of risk can cause stress. Although we train you with what your responsibilities are under legislation and how to minimise or eliminate risk, and you tell us that training with us makes you feel more confident and better prepared to do your job, we also know that stress and anxiety can still impact you in your day-to-day life.
For this reason, we have provided a list of organisations that are free and available that can provide assistance if you are experiencing ongoing stress and distress. You may also be able to access support from your employer through an employee assistance programme (EAP) or directly through your own GP. This list is available here, and in our student lounge and noticeboards. We also provide information on where to get help:

• Counselling
• Crisis Line
• Alcohol and substance abuse
• Food Bank (New Plymouth)
• Tenancy Rights

For information on healthy eating for adults download this Ministry of Health publication.
Let us know if we can assist you further.